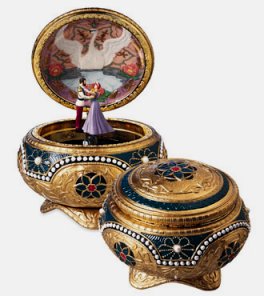 Nicholas and Alexandra Anastasia Music Box

Lift the lid of Anastasia's music box and the last Czar and Czarina, Nicholas and Alexandra, twirl as the music plays. A crowned emperor swan is hand-painted under glass inside the lid and faux pearls decorate the ornate box. It plays "Once Upon a December" and measures 4.5" in diameter and 3.5" high when closed. When opened it stands 6.75" tall.
Add a necklace as did Anastasia's Grandmother! A beautiful, handmade pendant of faux emeralds and center ruby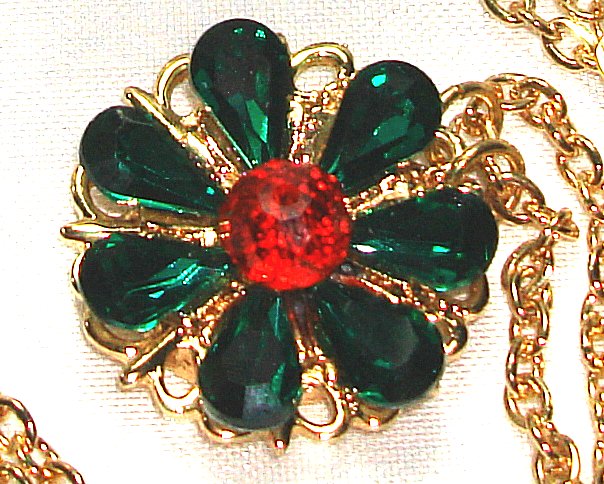 Please be sure to add both the musical box and the necklace to your cart.
We ship Internationally. If you are outside the U.S., Please enter your postal code and select either USPS Priority or USPS Express as your shipping option. These USPS choices will avoid brokerage fees on your end..

IMPORTANT INFO REGARDING NEW SHIPMENT from manufacturer that was expected mid August to end of August; Arrival date has been updated to Mid September. If you are not rushed for time, we are taking orders in advance (until further notice ...at this past year's prices, which we will honor) We expect to know what, if any, the increase in prices will be and will post it then. If there is an increase, anyone who has ordered before the posting will pay the old price. We do not charge until we ship. To ensure your delivery Please order normally. When you add to cart you will see the text that says "Yes, I will wait. Please reserve my order and ship to me ASAP." We do not charge until we ship.
Nicholas and Alexandra Anastasia Music Box $80.00 $72.00 Our Price!


Anastasia's Music Box Necklace $18.95


Have any questions or comments? Please Email us at info@themusichouse.com or
contact us toll free at 888-88G-CLEF (888-884-2533). We appreciate your patronage.

©Copyright 1997-2015 THEMUSICHOUSE.COM, INC. All Rights Reserved

THEMUSICHOUSE.COM, INC.
(formerly Port Washington Music House established 1965 in Port Washington, NY)
DADE CITY, FLORIDA 33525


Local Phone:352-588-2800 &nbsp Fax:352-588-2404

We Ship Globally. USA, Canada, International.