About TheMusicHouse.com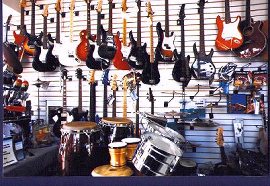 A Store Photo (Circa 2002)
Having completely moved in June of 2012, from our offices in Port Washington, Long Island, NY, we find ourselves reminiscing. The Port Washington Music House provided caring service and support to three generations of students, teachers, musicians and music lovers since 1965. Now known only by our website name, TheMusicHouse.Com, Inc., we are still unalterably committed to our customer's needs, desires and aspirations as we begin our 23rd year online now serving you from our new home in Florida.
Meet our Staff:
Kandi Wasser, President, Co-founder and Manager of Operations, Kandi's background is not originally in music (motion pictures and TV engineering NYU)...She is an advanced student of the classical guitar and has acquired much musical expertise during her 52 years in the business. Kandi is responsible for many of the page designs on this site and continues to maintain it. The Musical Gifts and Music Boxes located in the front corner of the original store was her loveable idea.
Bernard Wasser, With great love and respect, we remember our founder, Bernie Wasser 1935-2005, B.S. Juilliard, MA Columbia and only a thesis way from a Doctorate, NYU. He played bassoon for major symphony orchestras (The Buffalo Symphony Orchestra, The American Symphony Orchestra, the Long Island Symphony Orchestra), the entire first run of the broadway show, "Man of LaMancha" and for many local organizations.
He was five times Past President of Rotary International (Roslyn and Port Washington Chapters) and truly believed in their motto, "Service Above Self." Click here if you would like to listen to the original recording of the Overture to Man of LaMancha.
Ron Wasser, Vice President and now Co-Owner, is our Sales and Inventory Control Chief, who re-joined us in 2010, overseeing the shipping department and very caringly heading the Customer Service and Repair Departments. Ron grew up working at The Port Washington Music House before going off to College and knows every facet of the operation. We are so happy to have him back in the business.

Holli Ross, jazz vocalist and voice therapist has long been associated with the Music House. An adjunct professor at Hofstra University and Montclaire University, she was one of the 18 highly trained and practicing professionals who taught in our studios. She now has her own practice but acts as Company Buyer and Consultant for TheMusicHouse.Com in the NY area
Kelly Sokoll, Marketing and Accounts Manager, joined our team in September 2015. KS grew up in Rhode Island and moved to Florida in 2003 where she attended the International Academy of Design and Technology, received her Bachelors in Fine Art with a concentration in Graphic Design in 2008. KS has 10+ years' experience in marketing and sales working as an Account Executive in Broadcast television in the Tampa Market.
Donald L Caine, Our Musical Box Repair Consultant is, in his own right, the premier North American repair, restoration and service provider for Reuge USA, Thorens and other Swiss Companies.
We look forward to serving you!
Since August of 2003, the Rentals, Instrumental Sales, Instrument Repair and Studio facets of the Port Washington Music House have been in the capable hands of Jonathan Watkins of Wright Music. Our local clientele is finding the same excellent service still available. We continued with our Music Boxes and Musical Gifts
In 2010, while still maintaining offices in Port Washington, we moved our inventory of Musical Gifts, Music Boxes, Kids' Korner products and instruments to Dade City, Florida. We are now only in Florida, where we have continued to serve our internet customers and our local clientele with as much caring as ever.
The following websites are affiliated:
TheMusicHouse.com, MusicBoxStore.com, Treasuregram.com, Musicboxes4U.com and the MusicHouseShop.com
---
90% of our communication is through e-mail. We read and reply quite often in a day.
Please don't hesitate to contact us at info@themusichouse.com.
---
Gift Certificates
---
Have any questions or comments? Please Email us at info@themusichouse.com or
contact us toll free at 888-88G-CLEF (888-884-2533). We appreciate your patronage.
©Copyright 1997-2019 THEMUSICHOUSE.COM, INC. All Rights Reserved
THEMUSICHOUSE.COM, INC.
(formerly Port Washington Music House established 1965 in Port Washington, NY)
DADE CITY, FLORIDA 33525

Local Phone:352-588-2800 Fax:352-588-2900
We Ship Globally. USA, Canada, International.