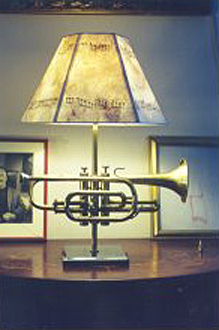 Custom Lamp made of Trumpet
Cleverly mounted antique trumpet (older but decent). The shade is not included. Can be made with a brand new (Chinese imported) brass trumpet at an additional cost of $80.00. Please scroll down for more information. Cannot guarantee Brass or Silver but if you have a preference you may select it when you add to cart. We will contact you within 24 hours.
uUbr1E
Lamps made with older instruments will have characteristics of used instruments such as tarnish, blemishes and/or small dents. Lamps can be returned if defective or damaged, but if it is returned for cosmetic reasons, shipping and handling is not reimbursed.
If you are interested in making a lamp using an old instrument of your own please email for quote. You would be receiving a discount for the instrument itself.These are made to order so please allow two weeks to ship.