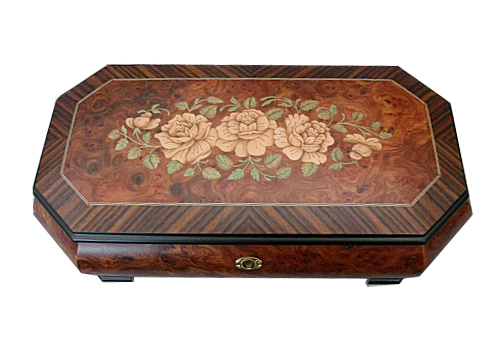 Italian Floral Inlay with Walnut Border on Large Elm Music Box with Tray (1.36)
The lid of this magnificent Italian music box is adorned with a floral inlay of three pink roses in full bloom, leaves and two small buds bordered by straight grain walnut. It is lined in a beige sueded fabric and features a lock and key and a tray for dear rings and smaller things leaving the underneath compartment for larger treasures. A very special statement of love for your dearest one.
The body of the cabinet itself is made of a dark burled elm and measures 14" x 7.5" x 4" high as it stands on beautifully sculpted walnut platform feet to match its sculpted and angled corners It is priced to include one of our vintage but new 1.36 Reuge or Romance movements from our available stock. You will find the 36 note TUNE SELECTOR when you add to cart.
btel213-36
$1,200.00
Image appears a bit lighter than actual music box. More accurate image to follow