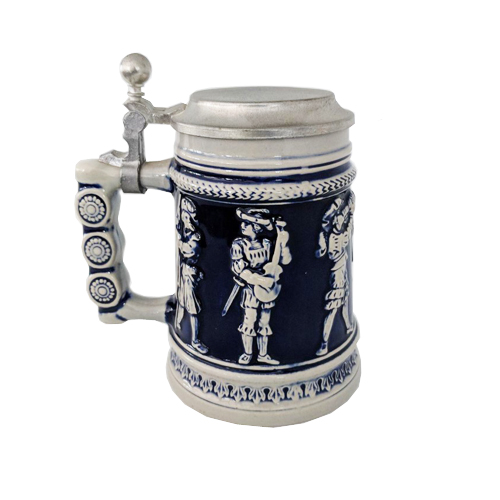 West German Lidded Musicians' Beer Stein Cobalt Blue
This 6.5" Silent Ceramic tankard in a colbalt blue, made in (probably in West) Germany features in raised motif, several musicians from several centuries past in theatrical garb playing their instruments. There's a Flag bearer, a couple of string players, a drummer and a horn player. there's even a fellow celebrating with a tankard of drink.
beb20180902-3
In nice condition with no noticeable bruises or cracks, it differs a bit from the norm and will make a great addition to any Beer Stein Collection. It has a marking on it's pewter lid DBGM which stands for Duetches Bundes GebrauchsMuster. which translates into German Federal Registered Design. That marking dates it to Post 1949 and that type of closed hinge seems to used into the early 1960s.