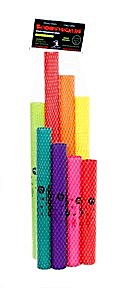 Whack-a Boom Card Game
Play 20+ games from the double-deck combination of color and rhythm cards. Add a boom to your recreational and educational music-making. This is a perfect game for families, classrooms, and large or small groups. The color cards use the "CHROMA-NOTES" colors that match our popular C Major Diatonic Scale Set of Boomwhackers Tuned Percussion Tubes. Please scroll down for more information.
iharWBC1
*Pentatonic sets are recommended for most of the games, although Diatonic sets may be used, and a few games do require Diatonic sets. Larger groups require multiple sets. Instruction booklet included.