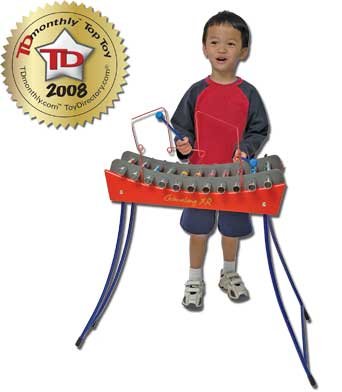 Chimalong XR - with Stand Original by Woodstock
We have one left. Woodstock discontinued their instrument department when they sold the Chimes to Sullivan. This was a marvelous little instrument ... especially when the child was already familiar with the professional Xylophone.
The Exciting Chimalong from Woodstock! This product is lively and fun. Kids stand and play, just like a professional musician. It comes with a 28-page instructional songbook that contains 16 songs arranged especially for the Chimalong XR.
It also comes with 2 mallets and a detachable music stand. Please scroll down for more information about this item.
iwCH1XR
Height: 26 in. (33 in. with music stand attached); Length: 29 in.; Width: 17 in.
Age or Grade: Ages 3+
The Chimalong XR is tuned to a diatonic scale starting on the note G, one octave and a fifth above middle C on the piano. The scale is:
G A B C D E F G A B C
This is a C Major scale starting on G. The upper 8 notes are those found on the original, award-winning Chimalong.