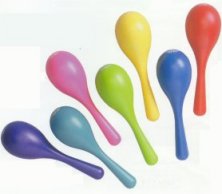 LP RhythMix Maracas Chick-itas (Plastic) 1 pair
These Latin percussion instruments come it Blueberry (blue), Grape (purple), Lime (green), Sunshine (yellow) and Bubble Gum (pink) are the colors of these adorable Chickitas. You can ask for an assortment too! These cute little plastic shakers with the big sound of genuine maracas are just the right size for little hands. Age 3+.
ilp-LPR011
These are safety-tested and age graded products. All RhythMix items are ASTM and CE approved. PBA and PVC free. The inside is made of steel shod and the outside is a plastic shell. Size is 5" long and 5" in diameter.
The Cherry (red) is available as the "Nino" brand and is no longer available in the LP brand.
Price is for the pair.