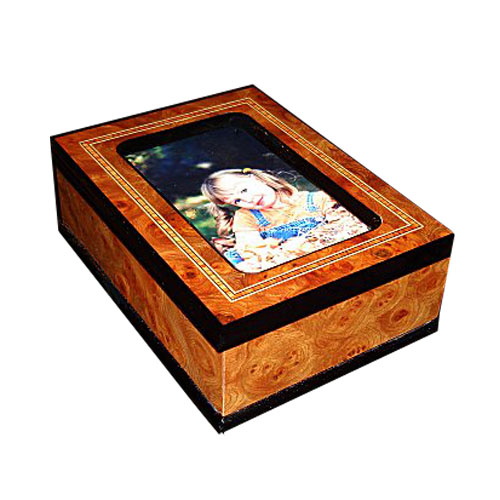 Italian Inlaid Musical Jewelry Box with Insert for Photograph (1.36)
If you are looking for an elegant musical jewelry box that will hold a photo, this is it!

A burled Elm cabinet inlaid with a micro-multi-wood design sandwiched between two filetto borders which encompasses the photo area.
This beautiful box boasts a mechanism made by Reuge, the well known master of mechanical music, a superb 36 note Reuge movement that plays, "Memory" which has become a somewhat rare find in Reuge tunes. If you so desire, you may browse our fairly comprehensive list of other fine Reuge 36 note melodies and select from there. We will be happy to change and install it for you at no extra charge.
bmds2017111-36
Install your dearest photo and send a very sweet and poignant message. The tune is activated when the lid is opened. The interior is of a beautiful suede lining and is appropriate for a gentleman's or lady's gift.