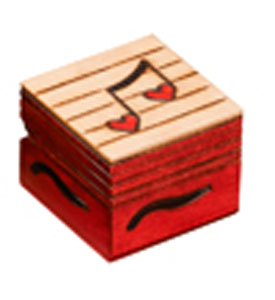 Silent Music Box Small with Heart Shaped Notes
So cute for Valentines day, Father's Day, Mother's Day or any day! Just to tell some one you love them! Measures only 2" x 2" x 1 5/8" and will surely relay your message. Please scroll down for more information about this product!
gmco7144
Made in Poland, these lovely little handcrafted boxes are sure to delight your musician. Cute for Valentine's day. Small enough for a stocking stuffer and reasonable enough for a teacher's gift to students. The image doesn't do the box justice. They are silent with no option to add a movement.