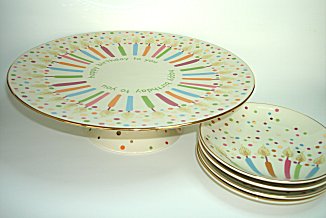 Lenox Musical Serving Cake Plate
Sorry, We are sold out of this product. We have been delighted to bring you this musical cake plate set from the beautiful Candles and Confetti Collection by Lenox. This birthday keepsake made of fine china is a gift that celebrates life. Make your birthday cake a merry-go-round. Top it with prancing toy horses or circus animals. A Carousel Cake will delight everyone! Great fun for the carousel collector too. Please scroll down for more information.
blen761653
The cake plate is approximately 11 1/2", stands about 3 1/2" and revolves to the tune of "Happy Birthday." Sorry we have no matching individual desert plates left. The large plate and the individual plates (not the stand in which the musical mechanism resides) may be safely washed on your dishwasher's top rack. Important notation: That because of the gold trim, they cannot be placed in the microwave.