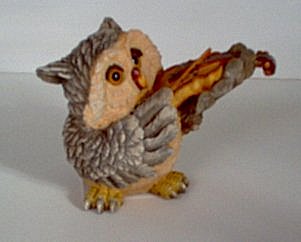 Musician Figurines - Wise Owls Playing Straight Brass Horn, Flute, Harp or Violin
This Wise Old Owl is Hand Painted and Hand Crafted. What a perfect piece for your favorite music teacher or musician friend! Please scroll down for more information about this item.
ghzS6288A/F
He or she is available as:
A=Violinist
B=Flutist
C=Straight Brass Horn
D=Harpist (Lyre)
We can make these into music boxes by placing them on a musical wooden platform for an additional $32.50 ea. You will be able to select your musician and the musical platform (if you wish) when you add to cart.