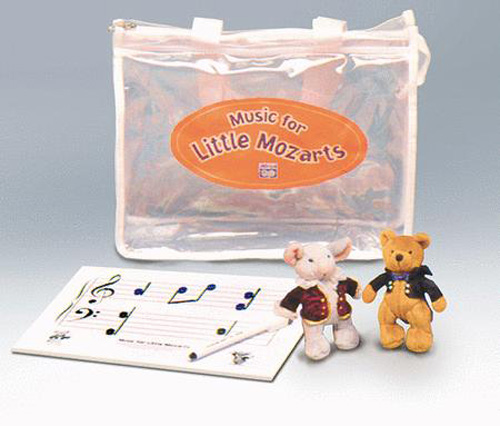 Music for Little Mozarts - Starter Kit
This one-of-a kind Starter Kit was exclusively made for use with the top-selling Music for Little Mozarts piano course for very young beginners. This special kit consists of a vinyl bag printed with the name of the course, a music activity board (magnetic and dry erase), and two stuffed animals, Beethoven Bear and Mozart Mouse. The Course centers around the adventures of these two main characters and the plush animals help make the course even more enjoyable. Students can carry their books to class in their very own music bag. Please scroll down for more information on this product!
mus-alf14586
Mozart Mouse is an adventurous toy mouse who explores the children's Music Room with Beethoven Bear and other toys from the playroom. He likes the piano's high sounds best, saying "I find them quite refreshing!" He is a quick learner who composes beautiful music and enjoys performing at concerts. The course centers on the adventures of Beethoven Bear™ and Mozart Mouse™ as they learn about music. The plush animals of the two characters are integral to making the course fun for young students. 5 inches tall.