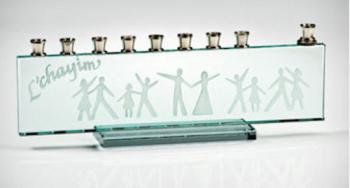 Menorah Dancers Etched on Glass
This is called the L'Chaim Menorah. Celebrate Hannukah with this joyful glass Chanukiah, designed by Susan Fullenbaum. Joyful dancers to bring Bright Blessings on this Holiday.
gsgd8206
From our Etched and Stained Glass Collection, this silent menorah with its exquisite work will delight all at Chanukah.
For other ideas...Please see our mezuzahs and pen holders.