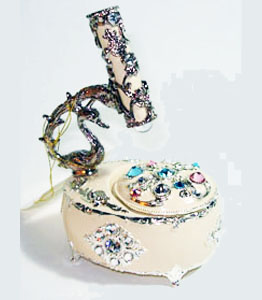 Musical Jeweled Kaleidoscope in White
This pretty white enameled and bejeweled figurine in the form of a microscope is really a working Kaleidoscope. Wind up the Jeweled disc and watch the Kaleidoscopic (somewhat geometric) view of beautifully colored Swarovsky crystals revolving as you listen to the strains of Beethoven's "Fur Elise." Perfect for the kaleidoscope collector or collectors of unique music boxes. it will also make a great gift for a scientist or researcher who uses a microscope. Please scroll down for more information.
bspS001W
Trimmed in shiny (though it looks dark in the image) Silver plate, this lovely creamy white enameled novelty measures approximately 4 1/2 inches high and is approximately 3 1/2 inches wide at the base.