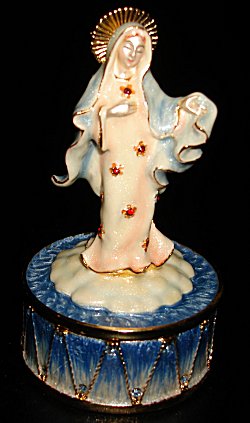 Musical Madonna Figurine
This lovely revolving miniature of The Holy Mother will be treasured forever. Her gown has the tiniest ruby-like jewels and there are even smaller sparkling crystals on the back of her cape. She stands 4" high on a cloud as it rotates to the tune of "How Great Thou Art." She comes in a beautiful satin lined maroon gift box, just perfect for Christmas, Confirmation, Easter or a token of sympathy.
bksa4073
This item has been discontinued but we do have a small supply left.