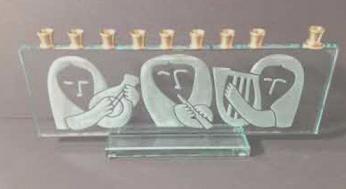 Menorah Ancient Women Musicians Etched Glass
The photo doesn't do this menorah justice. Celebrate Hanukah with this very special etched glass Chanukiah , designed by Susan Fullenbaum. Ancient Female Musicians play the Lyre, the Lute and a vertical flute. A Perfect Gift for your lady Musician.
gsgd8212
From our Etched and Stained Glass Collection, this silent menorah with its exquisite work will delight all at Chanukah.
For other ideas...Please see our mezuzahs and pen holders.