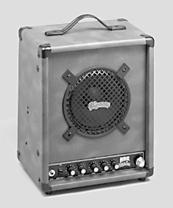 Amp - Pignose Hog 30 - Bass & Keyboard
The perfect practice and backstage amp. Clean, punchy sound, itıs louder than it looks and totally portable. Battery and AC operation- includes AC adapter/battery charger and rechargeable batteries. Please scroll down for more information.
amp-K7300
Features include heavy duty 8"" speaker, funk bass switch, compressor/limiter, 2 inputs, 3-band equalizer, level and pre-gain controls, line out jack, and headphone jack. Weight: 23 lbs. Dimensions: 13 1/2"" x 9 1/2"" x 17"".