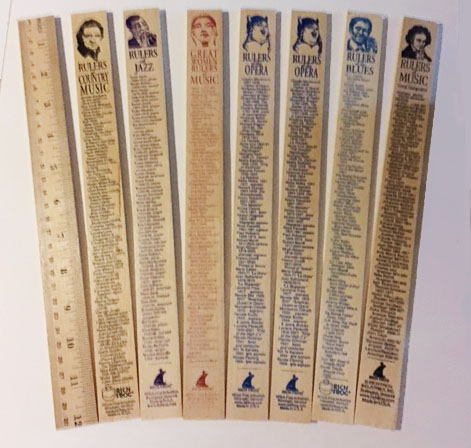 Rulers of the World
your Choice of Rulers of the World: Rulers of The Blues, Rulers of Country Music, Rulers of Great Composers, Rulers of Great Women in Music, Rulers of Jazz, Rulers of Opera, Rulers of Rock and Roll. Please scroll down for more information.
gchanRULE
Twelve inch Rulers, inches and centimeters on one side Musical information on the other. Made in the U.S.A.
When you add to cart you will see a text box. Please enter your order there and tell us how many in total (up at the top) where it says "Rulers of the World." Please email or call for quantity prices. We can do special orders of your own "Rulers" or logos for Corporate Gifts Great stocking stuffer or gifts for students.