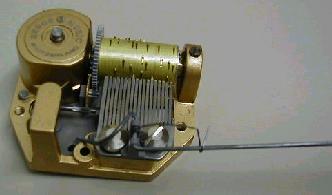 Movements - 18 Note Mechanism (1.18) Swiss (Reuge, Romance, Thorens,etc)
Quality 1.18 (18 note movement/mechanism) by Reuge, Romance, Jobim or Geneva (Swiss Made) plays about 8 bars of music lasting about three minutes or so when fully wound. All tunes repeat after the cylinder has made one full revolution.
Please note: The Swiss Reuge and Romance 1.18 note mechanisms have been discontinued by the manufacturer. We still have many of the tunes in stock. They measure 2" x 1 3/4" x 3/4" high. Please select your tune but place an alternate in the "ordering instructions box on the order form".
br1.18-all
If you have ordered a music box that has been priced with an Asian mechanism and you wish a Swiss, there will be a price adjustment. If the box was priced with a Swiss movement there will be no extra charge. Just include the name of the tune in the tune selection. The price listed is for the movement only.
Various stop/start wires, plungers and other stop/start devices are available. YOU MAY SELECT YOUR TUNE WHEN YOU ADD TO CART.