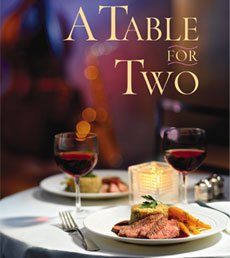 Menus and Music A Table For Two
New! A Table for Two, Recipes from Celebrated City Restaurants and Romantic Jazz Ballads by The Kenny Barron Ensemble.
Bring home the pleasures of a table for two! Includes recipes from America's most romantic restaurants, gorgeous jazz, and inspiring art by Henri Matisse. Home cooks will enjoy sensational dishes created by talented chefs at 18 celebrated restaurants. Luscious food photography, inspiring travel photos, a conversation with singer Taj Mahal, and quotes about love, food, and music give the book perspective and style.
Please scroll down for more information about this product!
MM-table
Tender, lyrical jazz by the Kenny Barron Ensemble sets the tempo for relaxed dining. The music will make you want to dance in your kitchen—or at least after dinner! Here's to great music, delicious dinners, and many magical evenings! Gift Boxed 208-page Cookbook with Music CD $36 The Cookbook: Café Daniel Boulud, Tabla, Blue Ginger, Bacchanalia, North Pond, Commander's Palace, Maison de Ville, Yoshi's, Wild Ginger. (Recipes from 18 restaurants, 208 pages) The Music: Say it Over and Over Again, Stolen Moments, Estate, The Very Thought of You, Alfie The Artwork: Jazz paper cut-outs by Henri Matisse, Evocative city photographs, Luscious food photography by Paul Moore