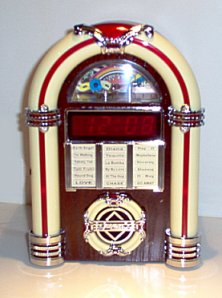 AM/FM Jukebox
Clock Radio
$49.95
ur543358

Sorry, but this item is out of stock and has been discontinued by the manufacturer.

This is sooo adorable. Recall the days of the malt shop and roadside diners of the 1940's and 1950's. It's all here....the colored lights, the elaborately detailed trim, the wood cabinet and even a view of the record player. Wake up to music or alarm sound. Can be used as a night light. Power supply AC 120V or DC battery. 9V backup (not included) FCC & ETL approved. It stands 10" tall, 8" wide and 6" deep.






Have any questions or comments? Please Email us at info@themusichouse.com or
contact us toll free at 888-88G-CLEF (888-884-2533). We appreciate your patronage.

©Copyright 1997-2015 THEMUSICHOUSE.COM, INC. All Rights Reserved

THEMUSICHOUSE.COM, INC.
(formerly Port Washington Music House established 1965 in Port Washington, NY)
DADE CITY, FLORIDA 33525


Local Phone:352-588-2800 &nbsp Fax:352-588-2404

We Ship Globally. USA, Canada, International.