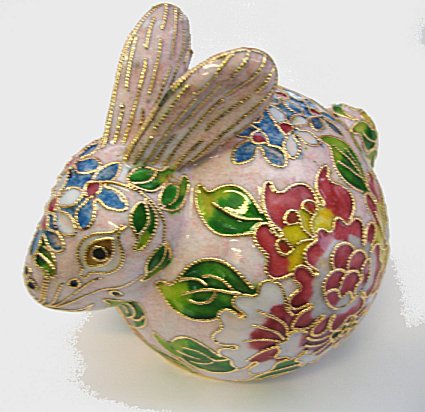 Cloisonne Musical Bunny
$39.95
bNYM454BUNNY

The Bunny is 4" from the tip of his nose to the end of his tail. He stands 4" high and plays "Here Comes Peter Cotton Tail." Unfortunately, this item is already out of stock and not expected to be available again until after Spring.... but we have darling hummingbirds, dragonflies, butterflies and turtles.

All of these these darling Cloisonne music boxes promise to delight and be will be treasured forever.




Have any questions or comments? Please Email us at info@themusichouse.com or
contact us toll free at 888-88G-CLEF (888-884-2533). We appreciate your patronage.

©Copyright 1997-2013 THEMUSICHOUSE.COM, INC. All Rights Reserved

THEMUSICHOUSE.COM, INC.
(formerly Port Washington Music House established 1965 in Port Washington, NY)
DADE CITY, FLORIDA 33525


516-883-4433 (local phone & fax)

We Ship Globally. USA, Canada, International.