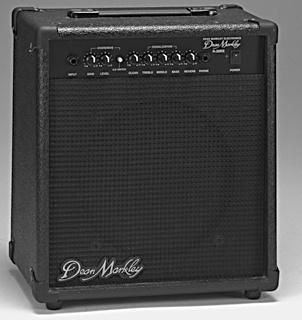 Amp - Dean Markley 17 Watt Overdrive
$169.95
amp-K30RX

Sorry, but this item is out of stock and has been discontinued by the manufacturer.

"The perfect practice and rehearsal lead guitar amp. The K30RX has both overdrive gain and level controls with a footswitchable overdrive. Separate bass, mid-range and treble controls plus reverb give the K30RX a warmth and depth far beyond anything youšve come to expect from a compact amp. 17 watts of RMS power is controlled by three-band equalization and 10"" speaker. "




Have any questions or comments? Please Email us at info@themusichouse.com or
contact us toll free at 888-88G-CLEF (888-884-2533). We appreciate your patronage.

©Copyright 1997-2013 THEMUSICHOUSE.COM, INC. All Rights Reserved

THEMUSICHOUSE.COM, INC.
(formerly Port Washington Music House established 1965 in Port Washington, NY)
DADE CITY, FLORIDA 33525


516-883-4433 (local phone & fax)

We Ship Globally. USA, Canada, International.