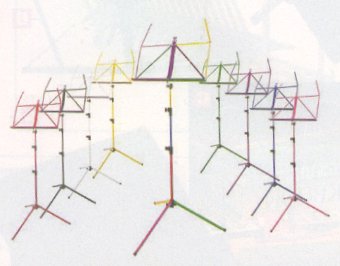 Music Stand - K&M 10010 Multi-colored & Black

These great looking folding music stands are fun to use and to give as gifts. Features included: Special adjustment clamps to protect the finish. Folds to 460mm. weight 1.1 kg DS 425 x 215. H 480/1225 mm.

Colors available: Black, Blue, Brass, Green, Lilac, Pink, Rainbow (primary colors - red,blue,yellow), Red, White, Yellow.

Carrier Bag Available.
Music Stand - K&M 10010 Multi-colored & Black $42.00 $40.00 Our Price!


Stand Accessory - Carrier Bag - for K&M 100/1- 10060 - 10062 and 10065 $9.75


Have any questions or comments? Please Email us at info@themusichouse.com or
contact us toll free at 888-88G-CLEF (888-884-2533). We appreciate your patronage.

©Copyright 1997-2015 THEMUSICHOUSE.COM, INC. All Rights Reserved

THEMUSICHOUSE.COM, INC.
(formerly Port Washington Music House established 1965 in Port Washington, NY)
DADE CITY, FLORIDA 33525


Local Phone:352-588-2800 &nbsp Fax:352-588-2404

We Ship Globally. USA, Canada, International.