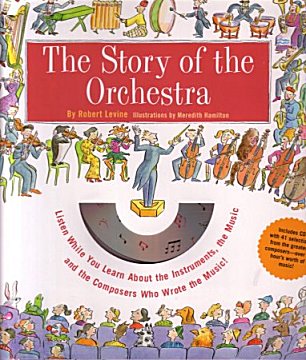 Children's Books - Story of the Orchestra with CD
THE STORY OF THE ORCHESTRA! Listen While You Learn About the Instruments, the Music and the Composers Who Wrote the Music! By Robert Levine, Hardcover, 96 pages. Dimensions: 10 x 10 x 1/2
CDb1579121489
Eye-catching illustrations, engaging text and delightful musical selections on the accompanying 70-minute CD lead children ages 8 to 12 (and parents, too!) on an exciting and educational tour through the instruments and music of the orchestra. Illustrated in exquisite and colorful detail with over 100 original drawings and photographs, this package is a fun and exciting musical journey for children. The engaging text is broken into three sections: an introduction to each instrument of the orchestra from the cello to the timpani, the stories of famous composers from Bach to Stravinsky and an explanation of different musical styles from Baroque to Modern. Each step of the way, children can listen to actual musical examples of what they are learning about. Young readers will hear the sound of an actual violin as they study the instrument and enjoy the playful tune of a Mozart minuet as they read about the composer's precocious exploits as a child.
Author Robert Levine is an internationally known music and travel writer whose work has appeared in dozens of publications. He was the co-editor of Records' Classical Pulse! Magazine, helped launch and was the Senior Editor-in-chief of Andante.com, a worldwide web site devoted to every aspect of classical music and musicians. He attends his operas and symphonies in New York.
Illustrator Meredith Hamilton has drawn and painted for numerous companies including Visa International, W. W. Norton and Doubleday. She was an art director at Newsweek, and has an MFA from the School of Visual Arts in New York. Her whimsical illustrations have been used in television ads, animations and books. She lives with her two children and husband in Brooklyn, New York.