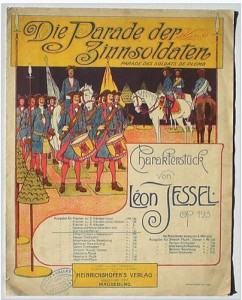 Confused about "Parade of the Tin Soldiers" or "March of the Wooden Soldiers" or "Parade of the Wooden Soldiers"??  They are all one in the same! This instrumental march (originally composed for piano)  was  written by the German composer, Leon Jessel in 1897 and called, "Die Parade der Zinnsoldaten"   (translation: The Parade of the Tin Soldiers).  In 1912, John Philip Sousa and his band played it at the Hippodrome Theatre in New York City.
In December of 1920 Nikita Balieff's La Chauve-Souris (The Bat) Revue reached Paris and featured the music as "The March of The Wooden Soldiers" and in 1922 it was brought to Broadway.and according to Wikipedia "created a sensation."  In 1923, Lee DeForest filmed The Parade of the Wooden Soldiers, performed by Balieff's company, using the DeForest Phonofilm sound-on-film process. The film premiered on April 15, 1923 at the Rivoli Theater in New York City, and is now in the Maurice Zouary Collection at the Library of Congress.."
The music has a great history, from the above to a "Betty Boop" production and the Rockettes using it annually at Radio City Music Hall.  Paul Whiteman recorded it among others and In the United Kingdom, "The Parade of the Tin Soldiers"  was used for many years in BBC Radio's "Children's Hour"  to introduce the series Toytown.  It was recorded by the New Light Symphony Orchestra.
Many more details can be collected on line at Wikipedia (the source for most of this "Musing")
Incidentally, you may listen to the opening and middle segments of "The Parade of the Wooden Soldiers" in our 18 note Sound Library. The mechanism playing the middle segment of the tune is available to purchase from our Music House Shop.
P.S. Should you be wondering about  "March of the Toy Soldiers" from "The Nutcracker Suite,"  it was  written by Pyotr Ilyich Tchaikovsky.  It is an entirely different piece!.