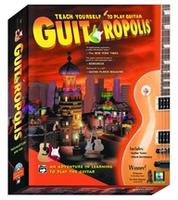 Guitropolis - Boxed Edition - Fun with Guitar Learning Software (CD-ROMóWindows/Macintosh)
$24.95
mus-alf14444

Guitropolis - An Adventure in Learning to Play the Guitar. Great for all levels.

A multimedia interactive CD-ROM based on Alfred's Basic Guitar Method which has sold over three million copies. This ultra-hip program blows everything else out of the water! Embark on an adventure into the cool side of the music biz while getting your guitar chops together. Games, play-along tunes and on-screen graphics walk you through the basics of playing the guitar. This is the newest, hippest software around for learning guitar.




Have any questions or comments? Please Email us at info@themusichouse.com or
contact us toll free at 888-88G-CLEF (888-884-2533). We appreciate your patronage.

©Copyright 1997-2013 THEMUSICHOUSE.COM, INC. All Rights Reserved

THEMUSICHOUSE.COM, INC.
(formerly Port Washington Music House established 1965 in Port Washington, NY)
DADE CITY, FLORIDA 33525


516-883-4433 (local phone & fax)

We Ship Globally. USA, Canada, International.