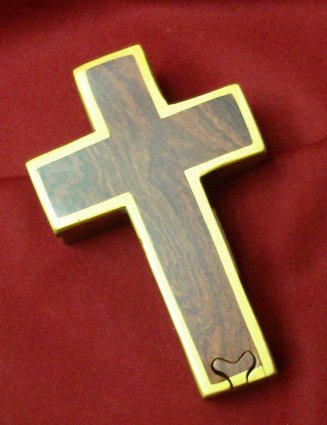 Handcrafted Puzzle Box Cross (1.18)
$22.00
gthPUZ1060

An ecologically sound gift! The woods used for these puzzles are from trees that grow very rapidly and are replaced as they are cut down. The workmanship is excellent and it makes a great gift. These puzzles measure from 6 to 8" long, approx. 3"w and 2"h.The box has three moveable pieces which you must remove at three stages to open the box.

Sorry, but we can't fit a music movement in this puzzle.




Have any questions or comments? Please Email us at info@themusichouse.com or
contact us toll free at 888-88G-CLEF (888-884-2533). We appreciate your patronage.

©Copyright 1997-2013 THEMUSICHOUSE.COM, INC. All Rights Reserved

THEMUSICHOUSE.COM, INC.
(formerly Port Washington Music House established 1965 in Port Washington, NY)
DADE CITY, FLORIDA 33525


516-883-4433 (local phone & fax)

We Ship Globally. USA, Canada, International.