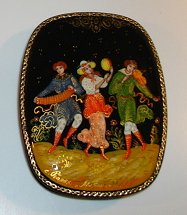 Russian Enamel Box with Three Musicians - Artist Signed
$80.00
galTRIO

Handmade in the old tradition of Russian enamel, this imported, artist signed keepsake box will definitely delight the collector, music lover or harpist in your life. They are exquisitely painted and no two are alike. They are silent (no musical movement inside) and measure approximately 3" x 4" x 1.5".

We can place a mini musical movement "Lara's Theme" in this box for an additional charge of 14.95.




Have any questions or comments? Please Email us at info@themusichouse.com or
contact us toll free at 888-88G-CLEF (888-884-2533). We appreciate your patronage.

©Copyright 1997-2013 THEMUSICHOUSE.COM, INC. All Rights Reserved

THEMUSICHOUSE.COM, INC.
(formerly Port Washington Music House established 1965 in Port Washington, NY)
DADE CITY, FLORIDA 33525


516-883-4433 (local phone & fax)

We Ship Globally. USA, Canada, International.