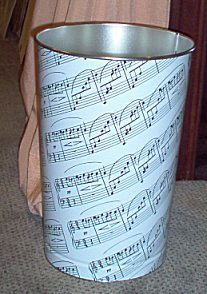 Waste Basket (Sheet Music or Keyboard Design)
$23.00
gai51300

Nice size 15" tall metal waste basket in sheet music pattern or keyboard pattern.

Sheet music is illustrated in the picture. Sorry, but currently the Sheet Music pattern is out of stock. We do have the Keyboard pattern.



Have any questions or comments? Please Email us at info@themusichouse.com or
contact us toll free at 888-88G-CLEF (888-884-2533). We appreciate your patronage.

©Copyright 1997-2015 THEMUSICHOUSE.COM, INC. All Rights Reserved

THEMUSICHOUSE.COM, INC.
(formerly Port Washington Music House established 1965 in Port Washington, NY)
DADE CITY, FLORIDA 33525


Local Phone:352-588-2800 &nbsp Fax:352-588-2404

We Ship Globally. USA, Canada, International.