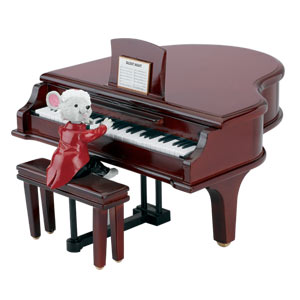 Maestro Mouse with Baby Grand Piano
$149.00
bmrx78811



Out of Stock Using the newest technology (Radio Frequency Identification), Maestro Mouse can play 24 favorite Holiday tunes on his baby grand piano. As he plays, the piano keys move. Place one of the music sheets on his piano to have him talk with you and play songs. Change sheet music at any time to hear a different song. Presence activated. Battery operated. Uses 4 AA batteries. Approximate Size: Approximately 9 1/4" wide

Click HERE to see Maestro Mouse in action.





Have any questions or comments? Please Email us at info@themusichouse.com or
contact us toll free at 888-88G-CLEF (888-884-2533). We appreciate your patronage.

©Copyright 1997-2015 THEMUSICHOUSE.COM, INC. All Rights Reserved

THEMUSICHOUSE.COM, INC.
(formerly Port Washington Music House established 1965 in Port Washington, NY)
DADE CITY, FLORIDA 33525


Local Phone:352-588-2800 &nbsp Fax:352-588-2404

We Ship Globally. USA, Canada, International.