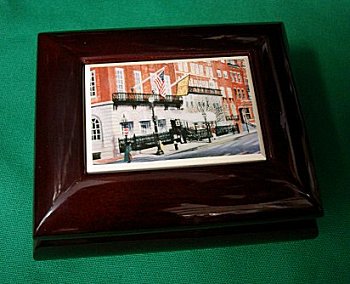 Tile Collection - Cheers Mini Milano
$52.50
bk57-691

The Graphic Art Tile is a unique product whereby a ceramic tile bisque is made and a printed image is laminated onto it. It is then hand finished and coated with specially formulated acrylics using a sophisticated process. The result is a richly fired tile that is placed on the lid of the box.

Our catalog of tile images is quite extensive. A tile image or product category is available for just about each of your special gift requirements. Represented Artists are listed at the bottom of this page.

Shown here is a lovely cherry finished music box that measures 4 7/8" x 4" x 2 1/2" high. It features a space for a keepsake and the lid is mirrored. It is available in Natural Oak #55,Washed Oak #56, or Cherry Finish #57. 

Available Tunes are:
18th Variation on a
Theme of Paganini

Aloha De

Amazing Grace

America the Beautiful

Anniversary Song

Ave Maria

Beautiful Dreamer

Blue Danube

Born Free

Brahm's Lullaby

By the Beautiful Sea

Canon in D

Carousel Waltz

Chicago

Claire de Lune

Edelweiss

Eine Kline Nacht Music

Feelings

Fur Elise

Georgia On My Mind

Greensleeves

Happy Birthday

Hava Nagila

Hawaiian Wedding

Home on the Range

How Great Thou Art

I Left My Heart in San Francisco

I'd Like to Teach the World to Sing

Impossible Dream

Indian Love Call

I've Been Working on the Railroad

Lara's Theme

Let Me Call You Sweetheart

Love Story

Masquerade

Meditation

Music Box Dancer

My Favorite Things

My Old Kentucky Home

My Way

New York, New York - from On the Town

On My Own

Send in the Clowns

Somewhere Out There

Sound of Music

Swan Lake

Tara's Theme

That's What Friends Are For

The Rose

Through the Eyes of

Till the End of Time - Chopin Polonaise

Try to Remember

Unchained Melody

Wedding March

When Irish Eyes are Smiling

You Are My Sunshine

You Light Up My Life
To view our selection of special tunes, click on Special Tune List (additional charge)
BE SURE TO MAKE NOTE OF THE NAME & TUNE NUMBER to enter when you add to cart.
(additional charge will not show in your total but will be added later) after reviewing, click the "Back" button to get back to this page.
Once you click "Add to Cart", you can select your choice of color, select from the tunes listed or request a different tune for $10 additional (if available) and place your tile page and number selection or request a custom tile.




Have any questions or comments? Please Email us at info@themusichouse.com or
contact us toll free at 888-88G-CLEF (888-884-2533). We appreciate your patronage.

©Copyright 1997-2013 THEMUSICHOUSE.COM, INC. All Rights Reserved

THEMUSICHOUSE.COM, INC.
(formerly Port Washington Music House established 1965 in Port Washington, NY)
DADE CITY, FLORIDA 33525


516-883-4433 (local phone & fax)

We Ship Globally. USA, Canada, International.