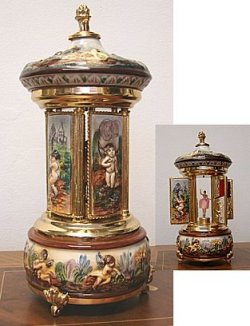 Capodimonte Carousel music box with Ballerina
$495.00
beb003

This exact piece was sold but we have others coming in all the time.

Previously owned but in mint condition. Time for someone else to enjoy this lovely collectible. It plays a Reuge/Romance Strauss Waltz. Amazingly fresh and like new. Turn the little knob on top to open doors and watch the little ballerina dance as the music plays.






Have any questions or comments? Please Email us at info@themusichouse.com or
contact us toll free at 888-88G-CLEF (888-884-2533). We appreciate your patronage.

©Copyright 1997-2015 THEMUSICHOUSE.COM, INC. All Rights Reserved

THEMUSICHOUSE.COM, INC.
(formerly Port Washington Music House established 1965 in Port Washington, NY)
DADE CITY, FLORIDA 33525


Local Phone:352-588-2800 &nbsp Fax:352-588-2404

We Ship Globally. USA, Canada, International.