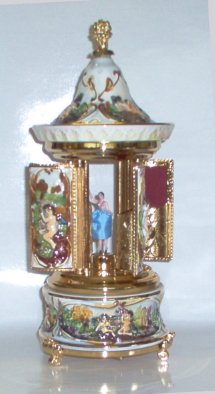 Capodimonte Musical Carousel with Ballerina
$450.00
bfc844w

These carousels and similar ones are sold almost as fast as they come in. We have suppliers who furnish us with some almost like new pieces that were previously owned. Presently, we have a waiting list. No one is committed to buying. When one comes in we photograph it and send it on. Sometimes the next in line would prefer to wait for another color or style.

If you are still interested, please place an order online. Your credit card will not be charged until we have one and you decide to take it. We would be happy to add your name to our list.

These musical carousels are made in a small town near Florence, Italy. Each piece is handmade in Capodimonte ceramic and finished with gold-plating over brass. the doors open and close while the music plays. The carousel has a ballerina that dances inside when the doors are opened by flipping the top. Cherub and floral designs are on neutral backgrounds. Dimensions: 5 x 11 1/2.
Tunes that they may play are: Edelweiss, Music of the Night, Blue Danube, Love Story or Lara's Theme.
These are no longer being manufactured and try to have one or two available.



Have any questions or comments? Please Email us at info@themusichouse.com or
contact us toll free at 888-88G-CLEF (888-884-2533). We appreciate your patronage.

©Copyright 1997-2015 THEMUSICHOUSE.COM, INC. All Rights Reserved

THEMUSICHOUSE.COM, INC.
(formerly Port Washington Music House established 1965 in Port Washington, NY)
DADE CITY, FLORIDA 33525


Local Phone:352-588-2800 &nbsp Fax:352-588-2404

We Ship Globally. USA, Canada, International.