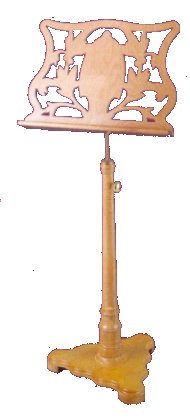 Music Stand - Wood - Carved Desk
$249.99
aGRK-MS69

Sorry, but this item is out of stock and has been discontinued by the manufacturer.

One of our most beautiful stands. For the Musician who wants (and deserves) the best. This stand with an ornately carved desk is available in all standard finishes. Perfect for a traditional parlor or music room. Features soft maple column, birch veneer desk, solid maple base and a 2" ledge. The adjusting mechanisms are electrostatically, brass painted to match the brass plated knobs. Desk tilts high gloss ebony only. See colors listed below. Desk size is 15" x 21". Desk height from 25" to 45" (from the floor to the shelf of the desk).

The hardwoods show highlights because of their grain and the colors have been reproduced as accurately as possible, however the actual color and grain of each wood product may vary.

Currently only available in high gloss ebony.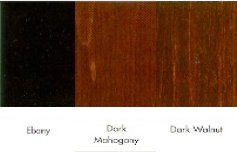 Have any questions or comments? Please Email us at info@themusichouse.com or
contact us toll free at 888-88G-CLEF (888-884-2533). We appreciate your patronage.

©Copyright 1997-2015 THEMUSICHOUSE.COM, INC. All Rights Reserved

THEMUSICHOUSE.COM, INC.
(formerly Port Washington Music House established 1965 in Port Washington, NY)
DADE CITY, FLORIDA 33525


Local Phone:352-588-2800 &nbsp Fax:352-588-2404

We Ship Globally. USA, Canada, International.