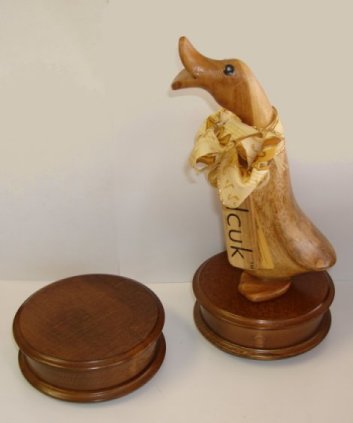 Dcukling with Revolving Musical base
$149.99 $124.99 Our Price!
bDCUK

One of our customers asked for this and it was sooo cute we decided to offer it to everyone. The darling Dcuk by Woodstock collared with musical ribbon, on our revolving Swiss base.

Because each DCUKling is unique, there's no way to guarantee what pose you will get. We promise to send you the pick of the bunch - whether it's a quacker, looking over it's shoulder, or marching straight ahead, we're sure you'll love the latest addition to your family!

Someone just purchased this for a decoy collector.




Have any questions or comments? Please Email us at info@themusichouse.com or
contact us toll free at 888-88G-CLEF (888-884-2533). We appreciate your patronage.

©Copyright 1997-2013 THEMUSICHOUSE.COM, INC. All Rights Reserved

THEMUSICHOUSE.COM, INC.
(formerly Port Washington Music House established 1965 in Port Washington, NY)
DADE CITY, FLORIDA 33525


516-883-4433 (local phone & fax)

We Ship Globally. USA, Canada, International.