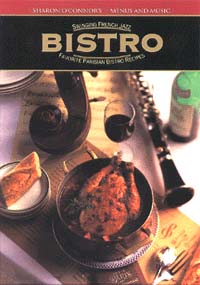 Twelve Month Plan of Music and Menus by Sharon O'Connor
$28.00
MM-twelvemos

Menu and Music of the Month Plan. Join the Plan and receive as a free gift...your choice of any one with the last shipment. Treat yourself or send to whomever you wish. We will send a gift package each month and you will be billed at that time $31.00 plus shipping and handling. You may also elect to purchase all at once and save the shipping costs, which we will pay. (See Twelve Months at Once)

January Spa - Start the new century feeling great

February Dinners for Two - Inspiration for Valentine's Day

March The Irish Isle - A stylish St. Patrick's Day celebration

April Lighthearted Gourmet - It's time to lighten up for Spring

May Afternoon Tea Serenade - Mother's Day and graduation teas

June Rock & Roll Diner - Father's day and end-of-school celebrations

July Picnics - 4th of July picnics/summer music festivals

August Music and Food of Spain - The perfect cuisine for warm weather

September Dining and the Opera - The Season begins anew

October Bistro - Time for comfortable, cozy dinner parties

November Holidays - Thanksgiving through New Year's entertaining

December Nutcracker Sweet - Baking and a beloved ballet become a family tradition.

Type in your choice for your free gift in text box when you add to your cart.




Have any questions or comments? Please Email us at info@themusichouse.com or
contact us toll free at 888-88G-CLEF (888-884-2533). We appreciate your patronage.

©Copyright 1997-2013 THEMUSICHOUSE.COM, INC. All Rights Reserved

THEMUSICHOUSE.COM, INC.
(formerly Port Washington Music House established 1965 in Port Washington, NY)
DADE CITY, FLORIDA 33525


516-883-4433 (local phone & fax)

We Ship Globally. USA, Canada, International.